Throughout the course of their lives, discus fish are likely to fall ill at one time or another. While the disease cannot be completely avoided, keeping water quality in the tank high and providing a healthy, varied diet can help keep discus fish healthy. In the event that discus fish do fall ill, however, it is important that timely action is taken to isolate the sick fish and to begin a treatment regimen. The sooner restorative action is initiated, the more likely discus fish are to recover from their disease.
Discus Fish Diseases
When it comes to discus fish diseases, the various afflictions can be divided into two categories: external and internal. Some of the most common external afflictions likely to affect discus fish include various parasites, fungus, rot, and viral infections.
Many of these afflictions present similar symptoms so it is important for the hobbyist to use their best judgment or to seek the help of more experienced hobbyists when diagnosing discus fish diseases. Common internal afflictions include bacterial or protozoan infections like dropsy or hexamitiasis as well as serious conditions like tuberculosis.
Fin Rot (Bacteriosis Pinnerum)
This disease is characterized by the fraying or deterioration of the fins on discus fish. At the onset of this disease, the fins may be discolored, having a white or opaque appearance. Over time, the fins will continue to rot away until little remains. This disease can be caused by a bacterial infection following fin nipping by other fish and it can also be brought on by poor water quality.
Ichthyophthirius (Ich)
Ich is one of the most common freshwater aquarium fish diseases and it is generally characterized by the appearance of tiny white spots covering the body of the fish. In addition to these spots, the body of discus fish may become slimy and the fish may rub itself against rocks and other tank decorations. As the disease progresses, discus fish with ich may lose their appetite and clamp their fins together. This disease is caused by an organism called Ichthyophthirius multifiliis which attaches itself to the skin of discus fish whereupon a cyst develops.
Columnaris (Cotton Mouth Disease)
Columnaris is a fungal affliction caused by a gram-negative rod called Flexibacter columnaris. Symptoms of this disease may include loss of appetite, tail rot and skin lesions in addition to the cottony white growths around the gills and mouth that make this disease easily-identifiable. If not treated promptly, this disease could make it difficult for discus fish to eat or breathe which could quickly become fatal.
Parasites
Discus fish are prone to infection by a number of parasites including Costia and Chilodonella. Costia parasites are flagellates that attach to the skin of fish, causing sores and bleeding. Often a result of poor water conditions, these parasites are common in overcrowded tanks. Chilodonella parasites attach to the skin and gills of discus fish, causing the development of cloudy spots. Fish afflicted with this disease may rub against objects in the tank, become inactive or gasp for air at the water surface.
Dropsy
Dropsy in fish is not a disease so much as a condition brought about by an internal bacterial infection. Symptoms of this condition include swelling or bloating of the body and stomach, scales popping out and bulging eyes. There are several possible causes for dropsy including poor water quality (i.e. high nitrates), kidney damage or an internal bacterial infection like TB.
Tuberculosis
This disease often attacks fish when they are in an already weakened state due to poor water quality or primary infection. Symptoms of this disease include bloating, loss of appetite, open sores, and erratic swimming.
Hexamitiasis
Hexamitiasis is an infection caused by an internal protozoa called Hexamita. This parasite can live in the intestinal tract of discus fish without the fish showing any symptoms for long periods of time. Symptoms of this disease include slimy white feces, atypical behavior, loss of appetite and emaciation. In discus fish, emaciation will present in the head region and the eyes may darken as well.
Lateral Line Erosion (Hole in the Head Disease)
This disease affects the sensory organs in the face, causing pitting which may look like a hole in the head. The causes for this disease are up for debate but commonly accepted theories point toward dietary and environmental factors. Poor water conditions and stress may contribute to the development of this disease as might a vitamin deficiency. Hexamita, a parasite, was once believed to be the cause of this disease but this theory has been debunked.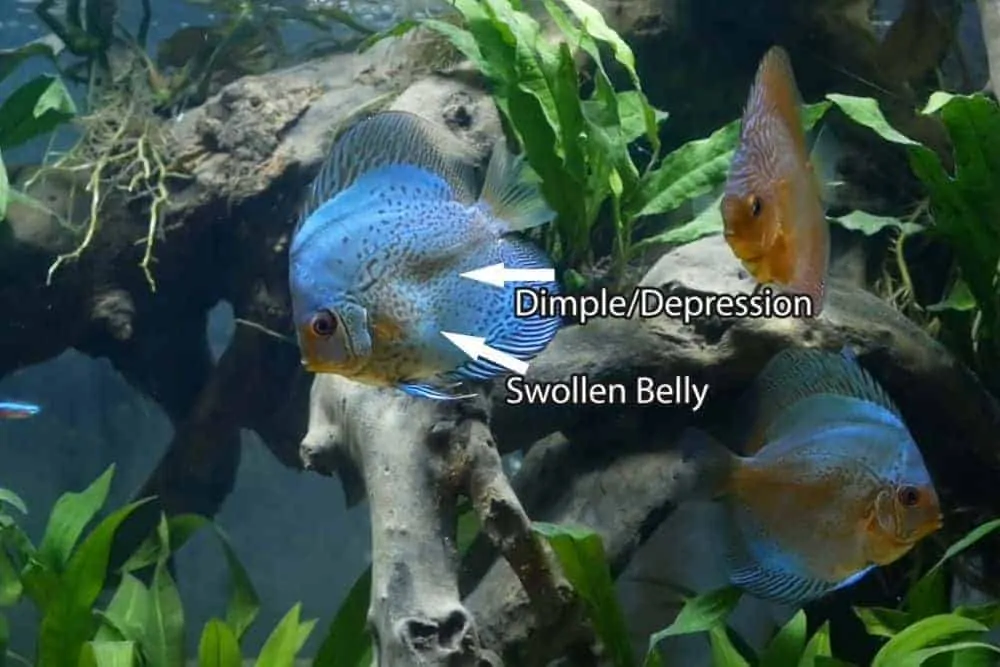 How to Treat Discus Fish Diseases?
The first step in treating any discus fish disease is to quarantine the affected fish. It is recommended that all aquarium hobbyists have an extra tank on hand to use as a quarantine/hospital tank in the event that one of their fish falls ill. If this tank is kept running at all times, the risk of a sick discus fish passing the disease to its tank mates due to delayed transfer to the hospital tank is greatly reduced. It is also wise to keep a separate net on hand that is only used for the hospital tank – it should be disinfected thoroughly after each use.
How to Quarantine New Discus Fish?
Select a tank that is around twenty gallons in.
Fill the tank with as much water from the main tank as possible to fill the hospital tank.
Use a submersible aquarium heater to maintain a stable temperature, making the adjustment easier for sick fish.
Keep the bottom of the tank bare to make cleaning the tank easier.
Install a sponge filter to facilitate mechanical filtration and aeration without producing an overly strong current.
Sink a mesh bag containing gravel from the main tank in the hospital tank in order to keep the nitrogen cycle going in a hospital tank.
Once the sick discus fish has been settled in the hospital tank it is time to start the treatment regimen. The type of treatment may vary depending on the disease and there are generally several treatment options for each disease. One of the most common treatments for aquarium fish diseases, including discus fish diseases, is the salt bath. A salt bath is created by mixing one or two teaspoons of Epsom salt or aquarium salt per ten gallons of water. The sick discus fish is then immersed in the saltwater bath for a period of several hours before being returned to the hospital tank.
Though treatments for various discus fish diseases may vary, any treatment involving the administration of medication should be accompanied by the removal of any activated carbon from the tank filter. The activated carbon in a discus tank filter serves to remove toxins from the water but, in the hospital tank, it may also filter out medication. This is one of the several reasons sponge filters are recommended for use in hospital tanks – they generally do not contain a chemical filtration component and thus will not interfere with treatment regimens.
Sick Discus Fish Treatment
Fin Rot (Bacteriosis Pinnerum)
Treatment options for fin rot include the administration of aquarium salt, Nitrofurazone, Acriflavine or Melafix. Increasing water quality will help with the treatment of fin rot and removing bullies from the tank that frequently engages in fin nipping may help to prevent future outbreaks.
Ichthyophthirius (Ich)
Ich is extremely infectious and treatment should be administered at the first sign of outbreak. Because this disease is so infectious, it is wise to treat the entire tank rather than quarantining a single fish in a hospital tank. Ich can be treated with a salt bath or through the administration of medications like potassium permanganate, Formalin, and Malachite Green. In addition to medications, increasing the water temperature may also help to kill the parasite by speeding up its lifecycle.
Columnaris (Cotton Mouth Disease)
Like most diseases, the best chances of recovery from this disease occur when it is caught early. In addition to dosing the hospital tank with salt, the administration of Melafix can help to heal skin abrasions and clear up fungus.
Parasites
Costia parasites can only survive on fish, not in tank water, and they cannot tolerate temperatures greater than 86° Fahrenheit. To treat for this parasite, increase the temperature in the hospital tank to 92° Fahrenheit for four days. A 3% salt bath as well as the administration of medications like Formalin and Methylene Blue may also be effective. Chilodonella parasites can move from one fish to another in the tank but can also be killed by raising the tank temperature greater than 86° Fahrenheit for a period of five days. A salt bath along with medications like Acriflavine and Malachite Green can also be used to treat this disease.
Dropsy
This condition is often fatal in aquarium fishes because it is difficult to detect and to treat. Salt baths may help to draw fluid out of the body of the affected discus fish, but if the scales begin to stick out, the disease has likely progressed too far for recovery. Some medications such as penicillin, tetracycline and naladixic acid may help to treat this disease.
Tuberculosis
This disease is extremely difficult to treat and, in most cases, is it fatal. Treatment can be a long process involving the administration of medications like Kanamycin along with frequent water changes and dosing with aquarium salt. Because fish afflicted with the disease are likely to be suffering, euthanasia is the preferred option.
Hexamitiasis
The most frequently recommended treatment for this condition is a drug called Metronidazole. This treatment is absorbed through the gills and can also be administered during feeding.
Lateral Line Erosion (Hole in the Head Disease)
In addition to providing a vitamin-rich diet, performing frequent water changes and dosing the tank with salt can help to treat this disease. Raising the temperature in the tank will increase the metabolic rate of discus fish and could also help to speed the healing process. Though Hexamita may not be the main cause of the disease, treating the tank for it by administering Metronidazole may help if all else fails.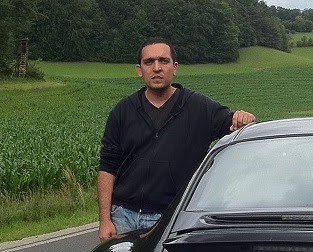 Hi, my name is Sean, and I'm the primary writer on the site. I'm blogging mostly about freshwater and saltwater aquariums, fish, invertebrates, and plants. I'm experienced in the fishkeeping hobby for many years. Over the years I have kept many tanks, and have recently begun getting more serious in wanting to become a professional aquarist. All my knowledge comes from experience and reading forums and a lot of informative sites. In pursuit of becoming a professional, I also want to inspire as many people as I can to pick up this hobby and keep the public interest growing.
Read more about Sean.
Please join also my Facebook group.