Shrimp can make a great addition to your freshwater aquarium or in a standalone tank of their own. There are a ton of different species of shrimp out there and many of them come in really brilliant gorgeous colors, that can really pop in your aquarium.
They tend to do best in heavily planted aquariums. This gives the freshwater aquarium shrimp plenty of places to hide which makes them feel a lot more secure in the tank. Keeping this in mind you do want to be careful when you're dosing your tanks with fertilizers, as many contain copper in them which can be potentially harmful to the shrimp.
Because many species of shrimp are also very small, you do want to keep that in mind when you are choosing your filtration as well. What method of filtration you have, might depend on what type of tank and what setup you have because you don't want your little shrimp getting sucked into the filter.
You will also want to keep in mind what type of fish you are keeping with your shrimp in the case of keeping them in a community tank as they are small they can often end up as a snack and sometimes that can be a very expensive pricey snack depending on what type of shrimp you're keeping. So now that we've gotten all the disclaimers out of the way, let's get into it.
Here are the 13 freshwater aquarium Shrimp
Red cherry shrimp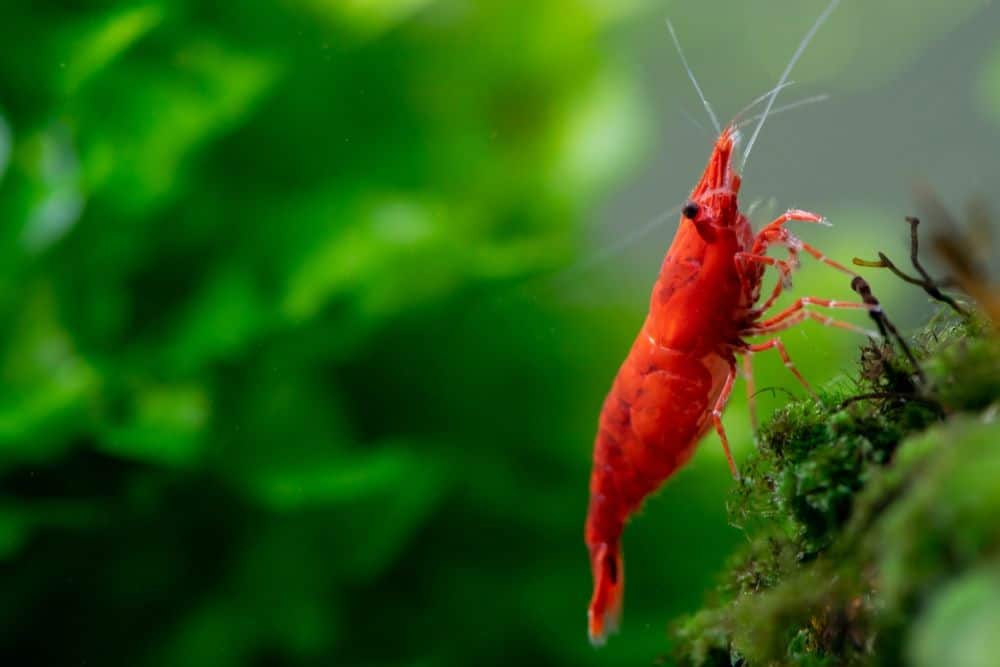 These shrimp are identified by their beautiful brilliant red bright coloring, and they're relatively easy to care for and breed for even beginners. They do best at a pH between 6.5 – 8 and a temperature range of 65 to 80 degrees Fahrenheit. These guys are very small, they are at work shrimp they only get to be about 1-1.5 inches in size which is suitable for any size shrimp tank.
Red cherry shrimp are suitable for both medium and larger size shrimp tanks since they are fairly hardy and adapts to a wide range of water and temperature conditions. Red cherry shrimps are peaceful and they look elegant with their red cherry color inside your aquarium with matching color gravels and other creatures. They have a low bioload and so you have to worry less about their feeding and tank maintenance.
Amano shrimp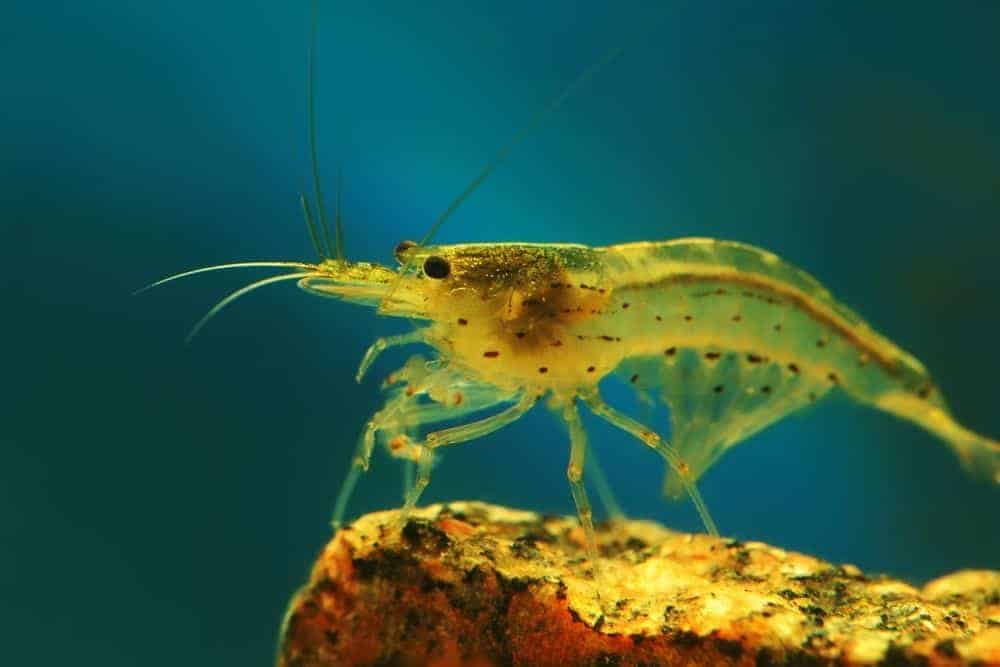 Amano shrimps are also another good choice for your freshwater aquarium shrimp because of their elegant looks. Amano shrimps look similar to ghost shrimp, but they are more beautiful because of their fan tails and dotted lines. Amano shrimp is a hot favorite among most of the hobbyist aquarists since it can grow larger than ghost shrimp and can live a longer life. Amano shrimps are best for medium and large shrimp aquariums because of their size. They need 70° – 80° Fahrenheit temperature, although, they can bear a little change of temperature and are not very sensitive.
The Amano shrimp is supposed to be the king of cleaning. If you are looking for an addition to your aquarium to help you with algae control, the Amano shrimp is probably your guy. These shrimp do best with a pH between 6.5 – 7.5, and they are a little bit on the larger size of shrimp getting up to about 2 inches for the females'.
Blue dream shrimp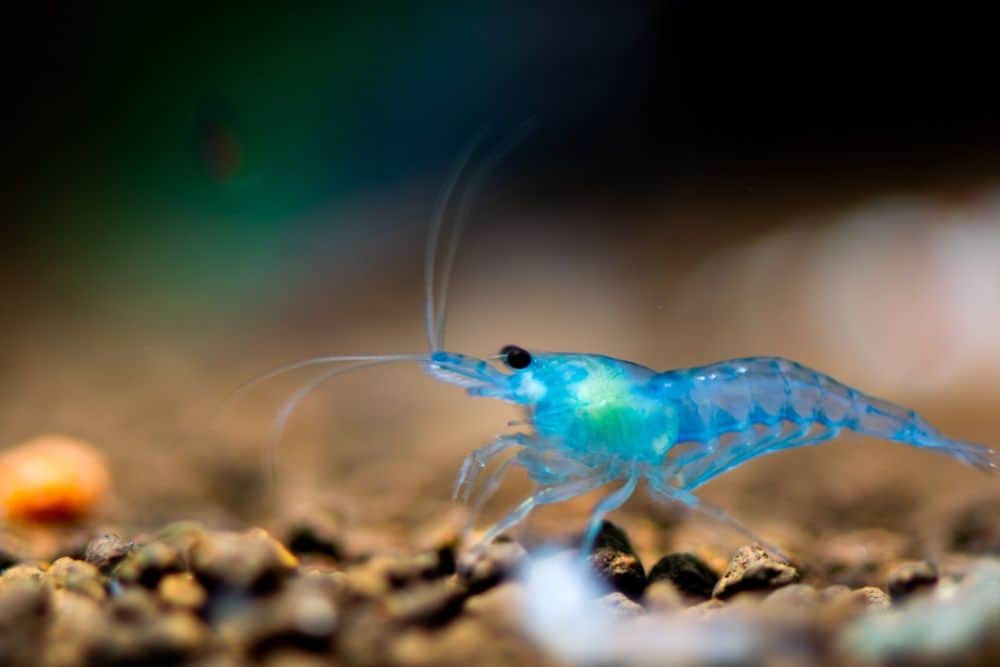 These shrimp have a brilliant gorgeous bright blue coloration, so they can really add a pop of color to your aquarium. They do best between a pH of 6.5 – 7.5, a temperature range between 65 – 80 degrees, and they get to be about 1.5 inches in size.
Ghost shrimp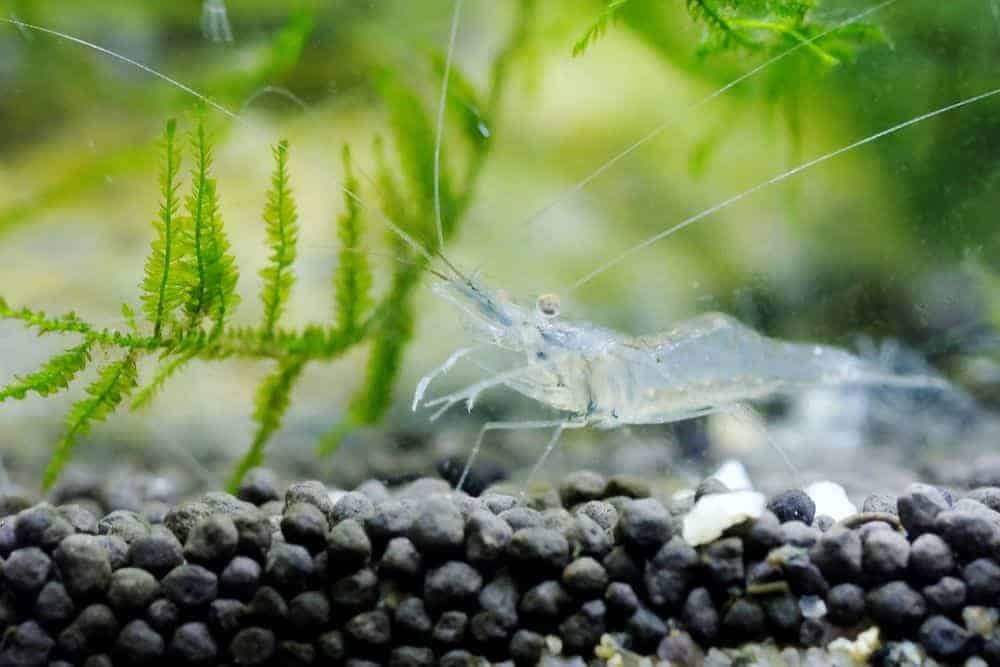 These shrimp are great as they are extremely low in cost. A lot of times you can find them for 50 cents or less apiece in fish stores. They are extremely easy to breed and they are considered a feeder shrimp. They do best between a pH of 7-8 and their temperature ranges between 72 and 82 degrees.
Ghost shrimps may be your best choice if you are a beginner. Ghost shrimps are easily available at your nearest aquarist marketplace. They also look elegant because they are almost transparent. An orange to yellow color spot is clearly visible on their smooth, translucent body that looks beautiful inside your aquarium.
Ghost shrimps are best for your small aquarium because they are small in size, having a maximum length of about only 2 inches. Ghost shrimps are very small and they often need a place to hide and feel secure. You can put some sand or small-size gravel to provide them a dwelling place. Ghost shrimps are decent scavengers and you must limit their count inside your shrimp tank or they may consume all the food you provide. Make sure they are getting enough food by dropping sinking shrimp or algae wafer often.
Panda shrimp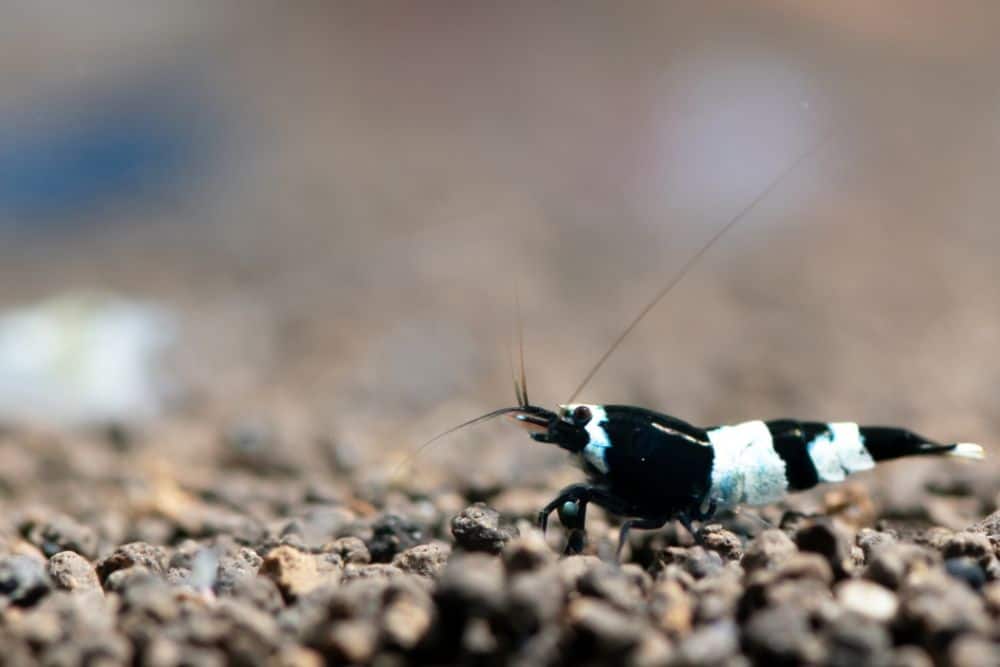 These shrimp are adorable with their black and white coloration and do they really just sort of add something to a tank. Probably one of my favorite shrimp. These shrimp can be a little bit more tricky and a little more difficult to breed. Panda shrimp do best with a ph of 5.5 – 6.5, a temperature range of 68 – 75 degrees, and they only get to be about an inch in size.
Freshwater Crayfish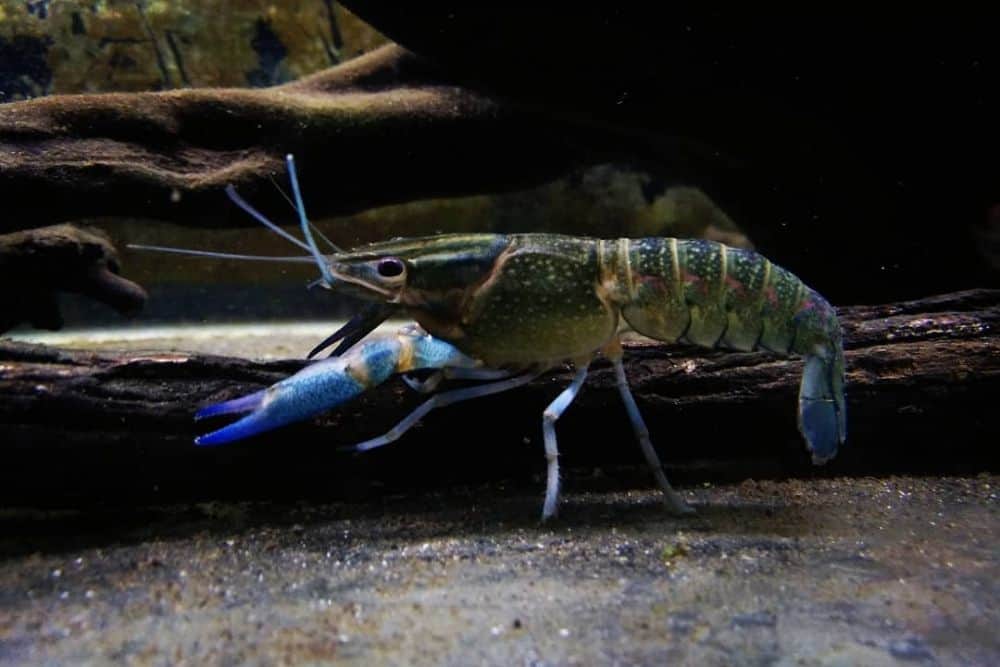 Crayfish are also a great choice for your small shrimp aquarium because of their smaller size (around 3 inches maximum). But remember that you have to provide stable water parameters to your crayfish and some sort of hiding place when they molt. Use a minimal amount of crayfish in your tank as they may cause some territorial problems when an increase in population. Try to provide a continuous flow of oxygen through an air pump and use Airstones to provide water surface agitation. However, crayfish looks very elegant when you put them inside a well-maintained shrimp tank.
Crystal Red Shrimp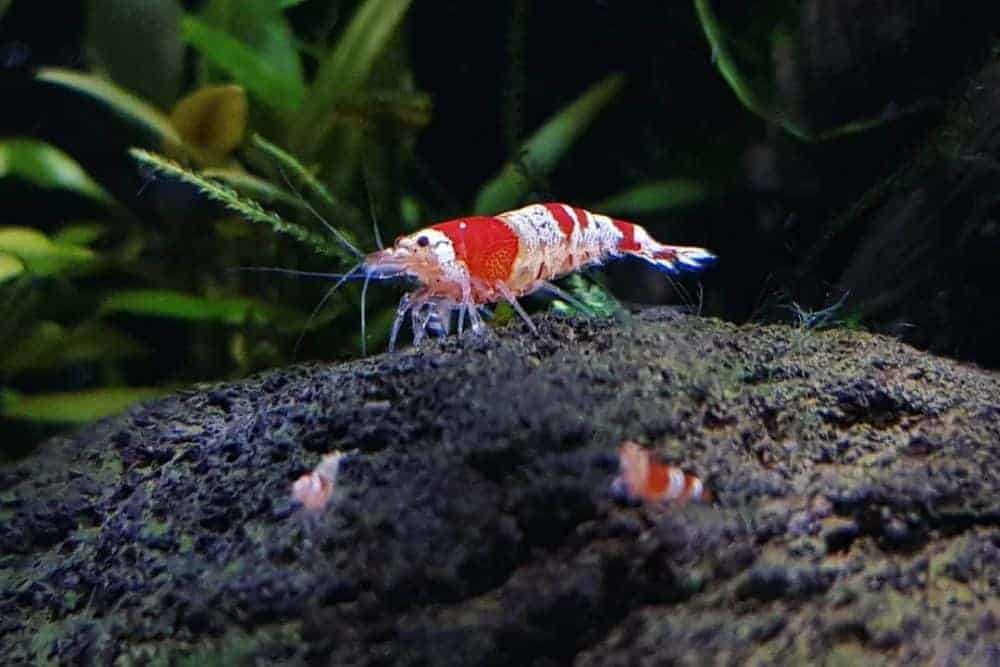 Crystal red shrimp, which is also famous with the name of red bee shrimp, is one of the most famous shrimp species among many hobbyist aquarists because of its vibrant colors and elegant looks. Many different grades of crystal shrimp aquarium are being found, but the most widely accepted grading system grades them depending upon the various patterns of color. If you are a beginner, then don't go into the briefing of patterns and use SSS grade shrimp that is the most widely used and easily adaptable crystal red shrimp grade.
Fan Shrimp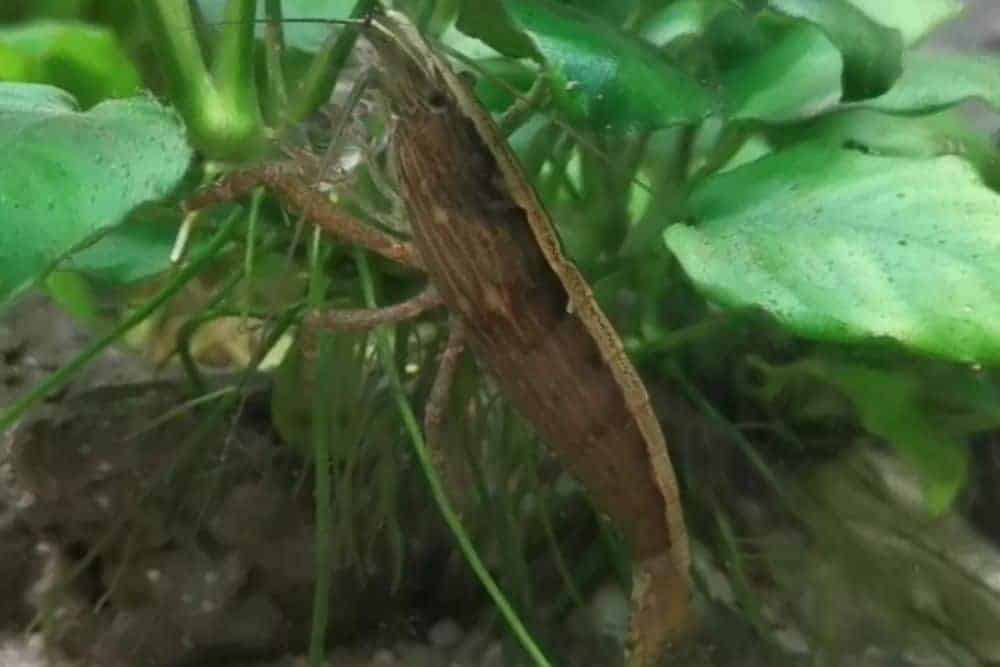 Fan shrimp belongs to the genera Atya family of scientific shrimps are they can grow to a very big size of around 16cm. Fan shrimps are the best choice for larger aquariums due to their size and avoid them inside a small aquarium. Fan shrimps can suit your aquarium since they are immobile and non-aggressive. They generally look for the places in aquarium having currents, wherever possible. Fan shrimps cling tightly to a substrate or gravel. Some common species found in fan shrimp family are Gabun giant fan shrimp, flower shrimp, and wood shrimp.
Large Clawed Shrimp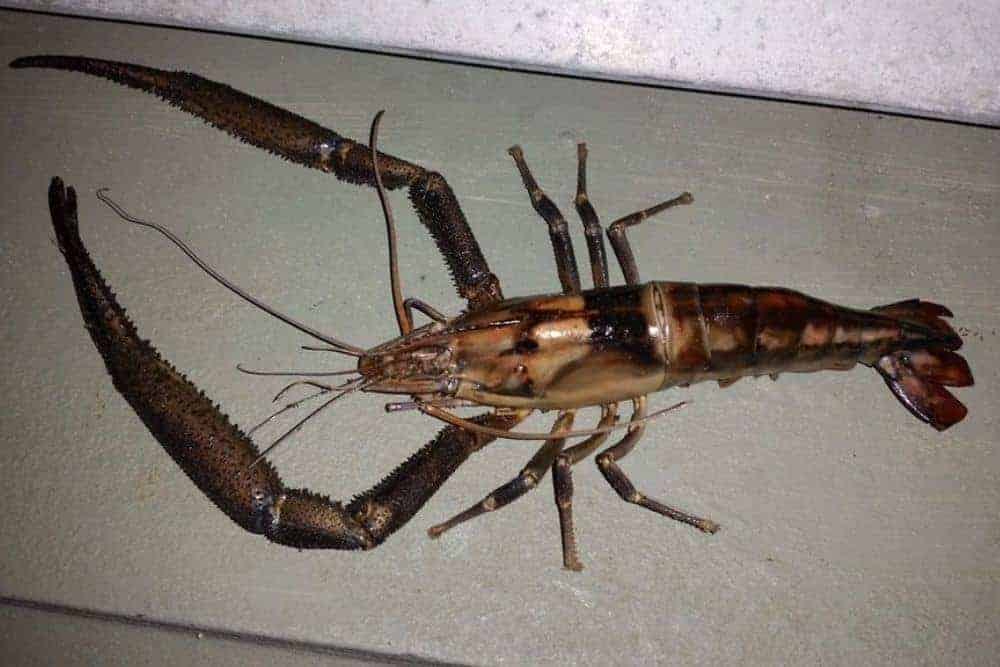 Large clawed shrimp are generally found in some of the parts of South America and Asia. Large clawed shrimp may not be your best choice as a beginner because they are fairly expensive to buy and hard to adapt. But you can adapt to them if you have some experience.
Some large clawed shrimp becomes very large and hence they are not a good choice for small and medium-sized aquariums. The best-known species of this group are Red rusty, Microbrachium, and Assamense. If you are a beginner and want to adapt large clawed shrimp, then you can consider Riceland prawn, since they grow to a reasonable size of 1-3 inches and are fairly easy to feed and adapt.
Japanese Marsh Shrimp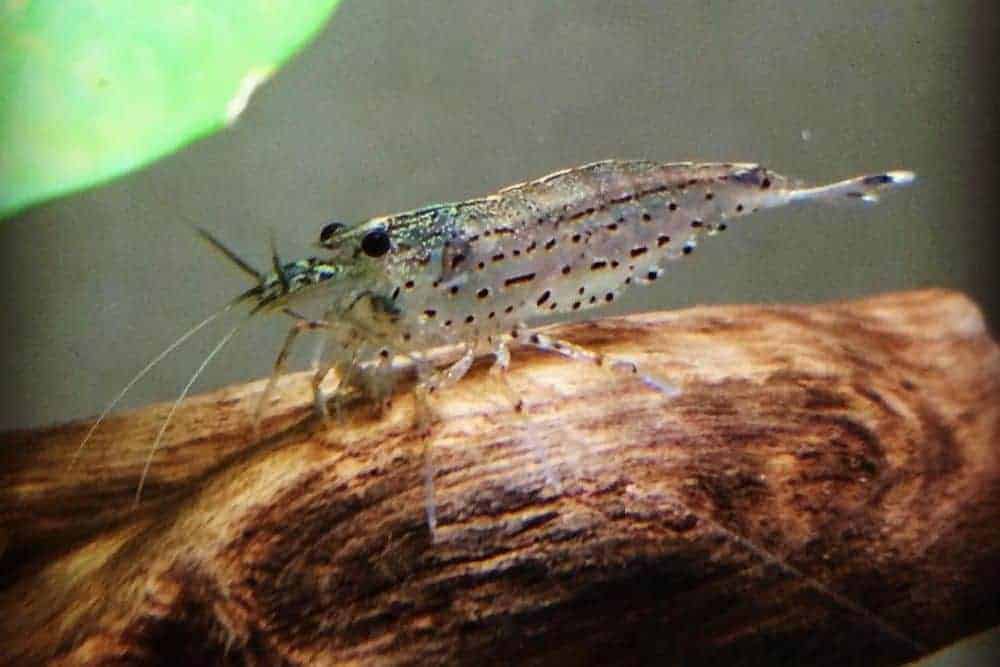 Japanese marsh shrimp is by far another most popular shrimps among hobbyists for freshwater aquariums. They are generally known by the name of Yamato Numa Ebi. This shrimp can grow up to a length of around 2 inches from head to tail and they are easy to care.
They are very tolerant of salinity and need a pH range of less than 6 approximately. Japanese marsh shrimps are very sensitive to ammonia, ammonium, and heavy metal concentrations and because of these many reasons; I won't suggest this shrimp for beginners.
The reason why these shrimps are famous among aquarists is due to their attractive color range. Their bodies are light brown to opaque and have a tan stripe down their back. They also have two dark spots on the rear corner of their tail. Another reason for most aquarists adapting them is that they love eating algae, especially soft algae. They also love to eat fish food like most other aquatic vertebrates.
Wood Shrimp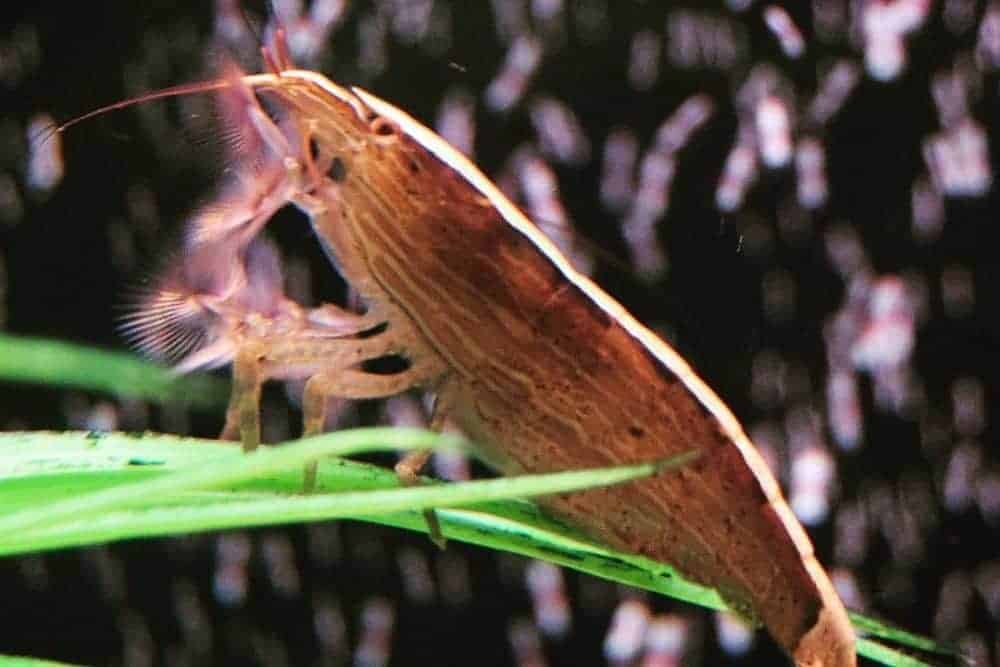 Wood shrimp are the proud representatives of Atyidae family shrimps. One of the main recognizing features of this shrimp is brush-like pairs of the claw carrying legs. This shrimp is considered as a filter-feeding shrimp and has two pairs of specialized fan-like appendages instead of claws.
They belong to a tropical species, and so you must keep them in higher temperature conditions. You must also provide enough amount of oxygen for their survival. Avoid this shrimp if you are a beginner since there is limited knowledge about their living conditions.
Mountain or Rock Shrimp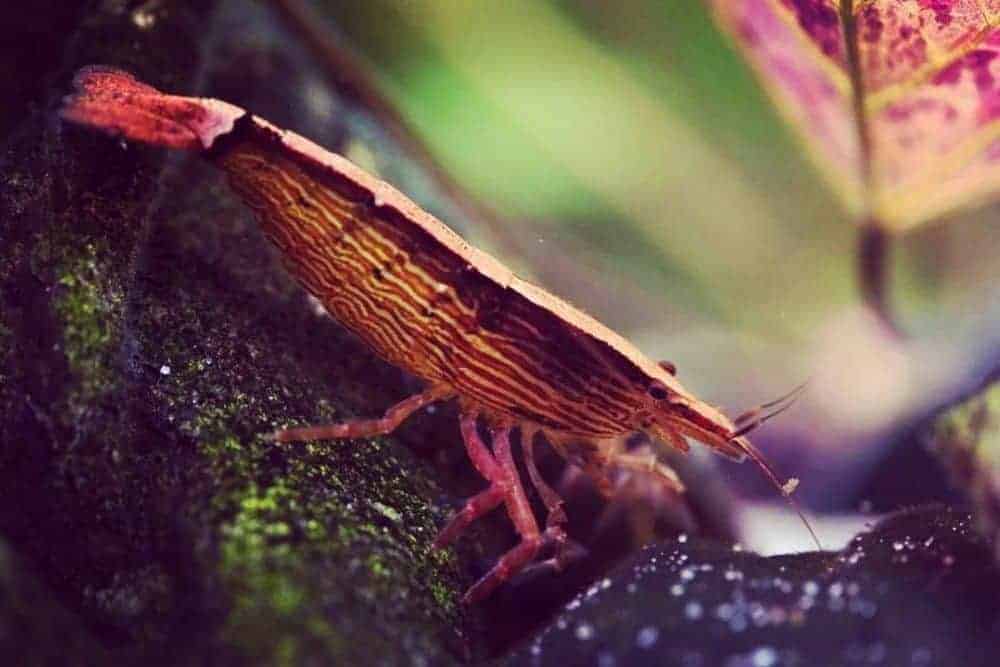 Mountain shrimp is almost similar to the Singapore shrimp in many cases like color and looks. One good news for you if you live in the USA is that you can find this shrimp not only in Asia but also in some regions of South America and Africa. So, I am sure you would find these shrimps at your nearest aquarist store.
Rock shrimps are scavengers rather than algae eaters and so you can feed them any food from your kitchen. Rock shrimps also need a temperature range from 75-85° F and a pH range of less than 7, so they can survive in the ideal conditions of other shrimps in your aquarium.
Glass Shrimp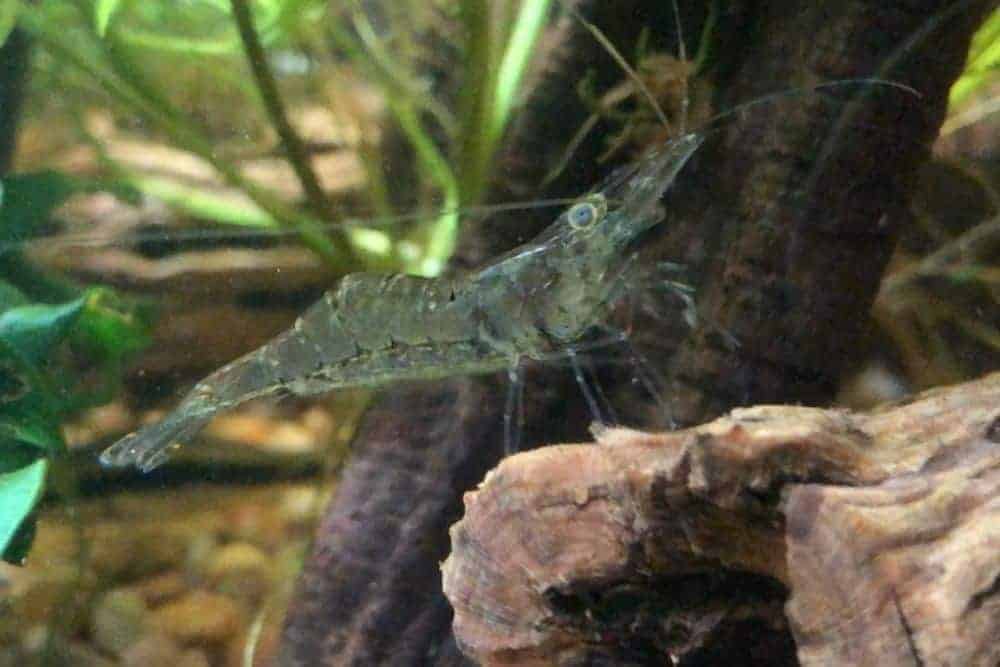 Another great shrimp for you if you are living in North American or European regions of the world is glass shrimp. Glass shrimps got their name from their appearance since they appear slightly translucent to white and the contents of their stomach are easily visible. Glass shrimps are excellent scavengers and they also love to eat soft algae.
They also prefer eating fish food and flakes is their favorite fish food. The pH and temperature ranges for glass shrimps are almost ideal like other shrimps. Remember that these shrimps belong to both brackish and freshwater family, so ask for a freshwater glass shrimp whenever you go to buy them to your nearest aquarist store.
Freshwater Aquarium Shrimp Care
Testing your water for whatever variety of impurities and chemicals should be your greatest concern for keeping up and caring for your shrimp tank. Many sorts of water testing kits are available in the marketplace that you can employ for your water testing. You must test your water for the pH level, ammonia, nitrites, hardness, and nitrates.
Monitor water parameters with a testing kit
If you are a beginner then a simple water testing kit should be enough for you that can test the chemicals described earlier and pH level. Aquarists advise purchasing a simple ammonia test kit for beginners. This type of test kit is capable of testing the nitrogen cycle in your water. Even so, it can only measure ammonia but not nitrites and nitrate levels.
The breaking period considered to be the most dangerous period for your aquarium when you just introduce shrimps into the aquarium. Many chemical changes happen during this point that is not beneficial for your shrimp tank. The essential bacteria can detoxify the water of your aquarium but these bacteria have not even fully developed during this stop and hence peak in the ammonia levels of water causes many troubles.
So testing your water often for ammonia level is mandatory during this period and you can also control the ammonia level with some chemicals. You can practice the Prime and Microbe-lift formula during this period to check the quantity of ammonia inside your fish tank.
Your next goal for trying out the water is pH value. pH level defines whether your water is basic or acidic. If the pH level is 7 or more, your water is basic and if it is less than 7 then your water is acidic. Testing the pH level is mandatory for maintaining proper health of your shrimps in the aquarium. There are many different species that need different levels of pH to survive in the water and you must know the pH level and control it inside your aquarium while doing the pH testing often. You must keep the pH level below 7 to maintain the amount of ammonia production inside your shrimp aquarium. Ammonia is not healthy for your shrimps and may cause aquatic disease in them.
The other test kits that you need for your aquarium is nitrate and nitrite level testers. Nitrite testing is not a big concern for beginners and you can skip it. Nitrate kit is more important than nitrite kit and you should buy it with other test kits initially before assembling your aquarium. Nitrate levels are not acceptable for your aquarium's shrimps. The visible signs of high nitrate amount are an oily shimmer at the surface and fish chipping for air on the surface. If the nitrate level becomes too high, change the water 1-2 times immediately.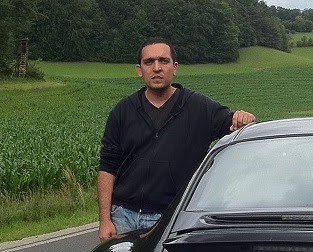 Hi, my name is Sean, and I'm the primary writer on the site. I'm blogging mostly about freshwater and saltwater aquariums, fish, invertebrates, and plants. I'm experienced in the fishkeeping hobby for many years. Over the years I have kept many tanks, and have recently begun getting more serious in wanting to become a professional aquarist. All my knowledge comes from experience and reading forums and a lot of informative sites. In pursuit of becoming a professional, I also want to inspire as many people as I can to pick up this hobby and keep the public interest growing.
Read more about Sean.
Please join also my Facebook group.