To hear this blog post, click the play button below.
Aquarium Air Pumps are a very essential part of aquarium setup and ensure the regular circulation air in water.
These pumps also help the fishes to stay healthy and happy while making enough vibrations and movements in the water.
It becomes very difficult to choose an air pump from a wide range of products available in the market. We have come up with the reviews of the top 3 air pumps in order to help you choose one.
| Picture | Product name | Link |
| --- | --- | --- |
| | Tetra Whisper Air Pump | |
| | Mylivell Quietest Aquarium Air Pump | |
| | Fluval Q2 Air Pump | |
---
Top 3 Aquarium Air Pumps
Tetra Whisper Air Pump
It has been over half a century that this name "Tetra" has been governing the market of fish and aquarium products. They have the ability to find solutions to every problem of a fish-keeping enthusiast.
They have got everything figured out for you but if we talk about the Whisper Air Pump, there is no product that it can stand second to. This Air Pump is capable of maintaining a very powerful airflow and managing a tank as big as the capacity of 10 gallons singlehandedly.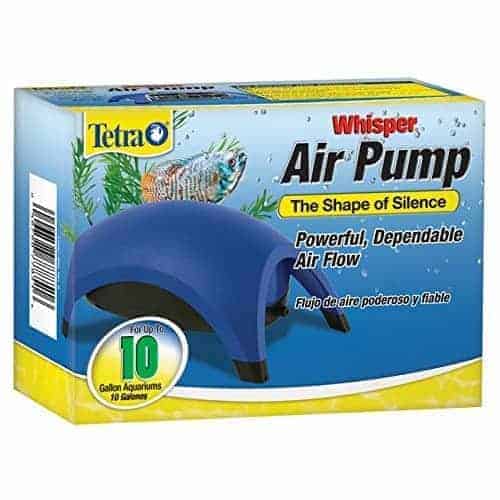 This is a very efficient product in all aspects and turns out to be very reliable. It can continuously and consistently pump the air in order to maintain proper circulation of air.
Produces the least bit of noise and is very effective to use in the aquarium setup. It is also easy to install and use which makes it even better than the rest of the products. It is the best product for your home aquarium and promises a clean and clear environment for the fishes.
Features
Tetra Whisper Air Pump is best suitable for deep tanks and is compatible to work with the tanks which are really big in size and have lots of stones at the bed.
This product is available for various different sizes of tanks with even the capacity of 300 gallons of water.
There are exactly 7 different sizes to choose from and you can choose according to your requirement.
These pumps are the most powerful and most efficient air pumps available in the market.
It has a unique design in order to help it reduce the vibrations and also help in producing less sound while functioning.
Has a lifetime guarantee attached to it.
It keeps the oxygen level in the water high and also produces a sufficient amount of vibrations to keep the fishes healthy.
Pros
It is highly economical and efficiently effective.
A wide range of sizes to choose from
Creates beautiful and breathtakingly magnificent bubbles and improves the circulation of air.
Doesn't produce any noise.
It has a lifetime guarantee attached along.
Cons
It doesn't come with any tubing and tubes are to be separately bought.
---
Mylivell Quietest Aquarium Air Pump Ultra Silent
This is the quietest and the smallest air pump available in the market and promises to maintain the air circulation in the best ways possible.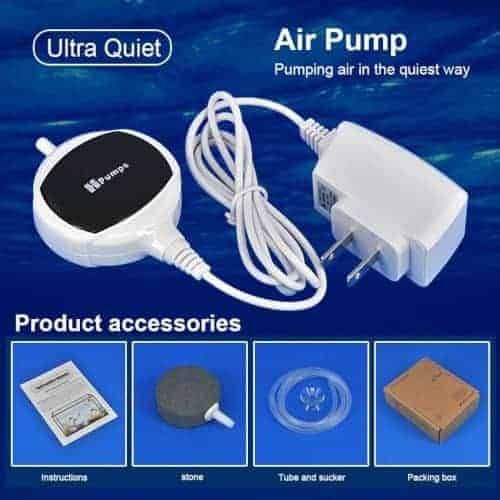 It is very easy to install and use and promises an immense quantity of oxygen level in the water.
Proper air circulation actually helps the fishes grow and stay healthy and this device ensures the healthy stay of the fishes.
Features
It is one of the easiest systems to install and use and consumes very less power.
Produces the least amount of noise compared to various other products.
It doesn't use any motor and uses the newest technology to create air bubbles.
Can be used for tanks with the capacity up to 40 gallons.
Provides the airflow at the rate of 24L / hour
Consumes the least power compared to other products.
Pros
Creates no noise at all
It is very compact in size
It is lightweight and easy to carry
Provides efficient airflow
Highly durable and long-lasting
Cons
The suction cup can be at times be harder to install
---
Fluval Q2 Air Pump
Fluval Q2 Air Pump is highly powerful and extremely efficient while at the same time least noisy.
The range of tanks for which it works lie between 50 gallons to 160 gallons of tanks. It promises a consistent and continuous flow of air throughout the aquarium and makes sure that the fishes stay healthy and sound.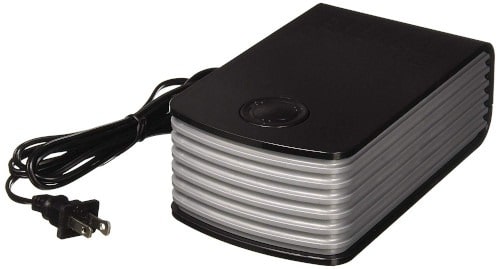 Works on a pump but has a double-layered wall which helps in creating less noise. It is known for it's reliable and durable functionality and is very popular and extensively used.
Features
It is known for its compact and small size and is easy to carry.
Has a very simple design and looks like a rectangular box.
It is extremely powerful and is capable of efficiently circulating the air.
Can work for any tanks with the capacity between 50 gallons and 160 gallons
Creates no or less noise as compared to the other products.
Pros
It has a simple and compact structure and size.
Extremely efficient and highly powerful for circulation of air.
It is designed in a unique way to prevent noise and to enhance performance
Less expensive than many other products in the market which have this many or lesser features.
Cons
There is no option of choosing the size as it comes only in one size.
Can be too small for the large tanks and it looks awkward.