Remember to choose a variety of species that will live throughout the water column from the top to the bottom. Your fish won't be in a mad rush to compete for food and living space, and you'll be happier when there are fish throughout your aquarium, instead of all in one area.
You can find below some of the best saltwater fish for a 55-gallon tank.
Midas Blenny
Bicolor Blenny
Lemon Goby
Neon Goby
Orange-Spotted Goby
Blue-Cheek Goby
Spanish Hogfish
African Clown Wrasse
Cleaner Wrasse
Four-Spot Wrasse
Yellow Sweetlips
Dwarf Angelfish
Midas Blenny – Ecsenius midas
Origin: Indian Ocean, Red Sea
Size: 3 inches
Food: Omnivorous
Tank Level: Lower level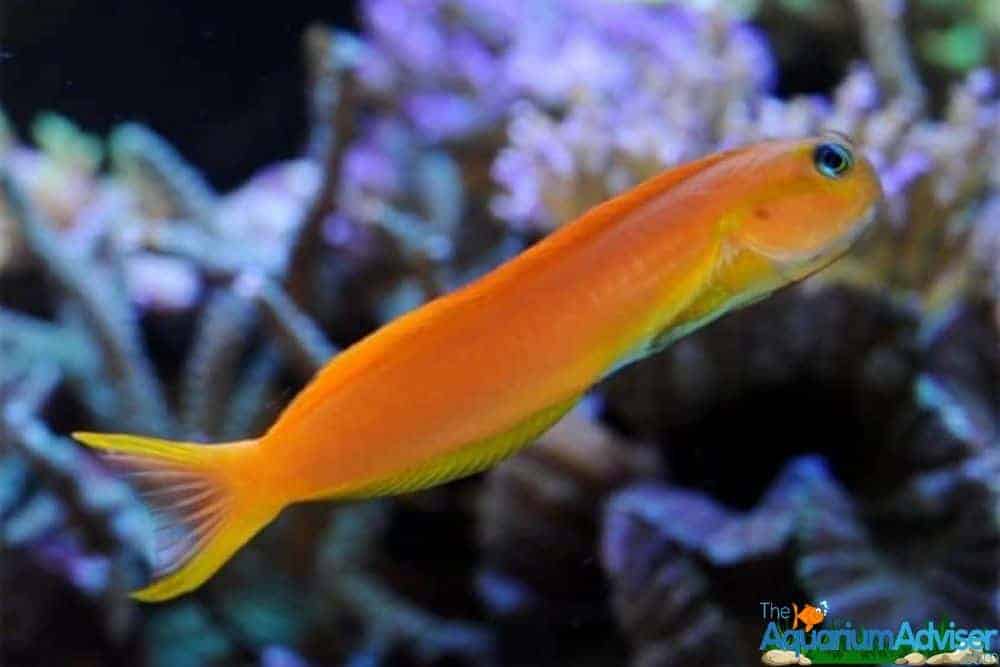 The Midas blenny is a yellow-hued fish that swims like an eel. Like most blennies, the Midas blenny requires numerous nooks, crannies, and caves to frequently hide in. The nice news is that it won't always stay in its hiding place, once it's claimed one. Once assimilated, the Midas blenny is quite lively. It will perch itself on rocks or other natural shelves in the aquascape to observe the rest of the aquarium. Since it's an omnivore, it has an excellent reputation as fish that is easy to feed and maintain. It is highly recommended for beginners.
Bicolor Blenny – Ecsenius bicolor
Origin: Indo-Pacific
Size: 3 inches
Food: Omnivorous
Tank Level: Lower level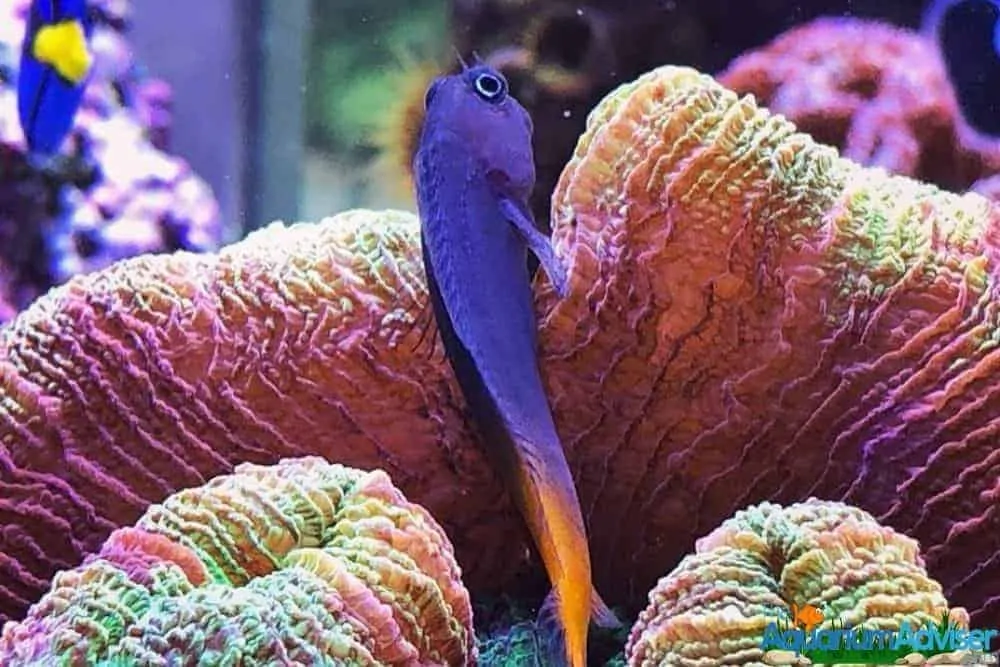 The front half of the bicolor blenny is brown and the rear half is orange. This is how this fish got its name. By nature, the bicolor is a tentative type of fish. It, too, lives in small caves or nooks. It is very interesting to watch it feed. It quickly zips out of its home to snatch the food and speedily returns to the safety of its den. It resumes its place in its den by "backing" in. The bicolor will gobble up a wide variety of foods. It is a fascinating species to observe.
Lemon Goby – Gobiodon citrinus
Origin: Indo-Pacific
Size: 1.5 inches
Food: Carnivorous
Tank Level: Lower level
With its yellow coloration and blue streaks, the lemon goby is certainly one of the most beautiful marine fish you can purchase for your 55-gallon tank or even nano tank. But the lemon goby is not as active as it is beautiful. As most gobies go, lemon gobies tend to loiter among various aquarium decorations or plants, content on watching the rest of its fish world pass by.
As aquarium fish go, this is a very peaceful fish. It is recommended that you should not keep it with large fishes because of its size. As your new goby becomes more comfortable with its surroundings, this carnivore can be trained to eat many different foods. However, lemon goby experts will tell you that they have a well-known love of live brine shrimp.
Neon Goby – Gobiosoma oceanops
Origin: Western Atlantic
Size: 1 inch
Food: Omnivorous
Tank Level: Lower level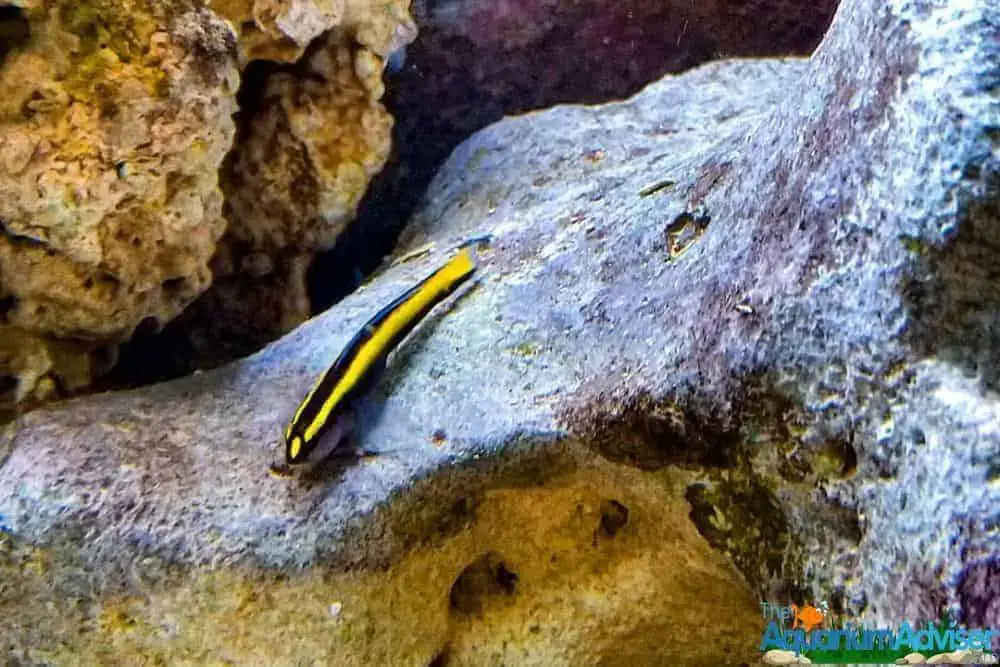 There are all kinds of interesting information about this goby. The most interesting is that the neon goby is one of the rare fish that have been bred in captivity! But there's another reason this is a popular fish. It is the world's hardest-working goby! The neon goby, while being beautifully colored, performs an invaluable service. The neon goby is famous for the cleaning services that it offers to fellow inhabitants. This is a popular marine fish that should be kept in a school of at least five or six. But take note—you cannot have these in the same tank with predatory fish.
The only drawback of a neon goby is that they live remarkably short lives. The average neon goby lives no more than approximately two years.
Orange-Spotted – Goby Valenciennea puellaris
Origin: Indo-Pacific
Size: 4 inches
Food: Omnivorous
Tank Level: Lower level
The orange-spotted goby is another popular fish. First, they are fascinating to watch, with their sleek silver body, highlighted by orange neon spots. And second, they are very hardy, which makes them an obvious choice for beginners looking to make their first saltwater aquarium a success. You should have a relatively sandy bottom for these fish, as they love to dig and burrow into the substrate. Since the fish are omnivores, they are easily fed and will devour a wide range of foods offered.
Blue-Cheek Goby – Valenciennea strigata
Origin: Western Pacific, Indian Ocean
Size: 3 inches
Food: Omnivorous
Tank Level: Lower level
This is an incredibly useful fish and another of the hardworking gobies. Blue-cheek gobies love to root around in the substrate. They're like little living vacuums, constantly patrolling and devouring everything they can find in the aquarium's gravel beds. They are excellent for under-gravel filters, as they will pick off all the detritus that would otherwise clog your filter. Blue-cheek gobies are peaceful fish and can easily be paired with members of its own kind. Knowing how they eat, and knowing that they are omnivorous, lets you know that they are easy to maintain. Here's a fish the beginner would do well to have two of.
Spanish Hogfish – Bodianus rufus
Origin: Western Atlantic
Size: 8 inches
Food: Omnivorous
Tank Level: All levels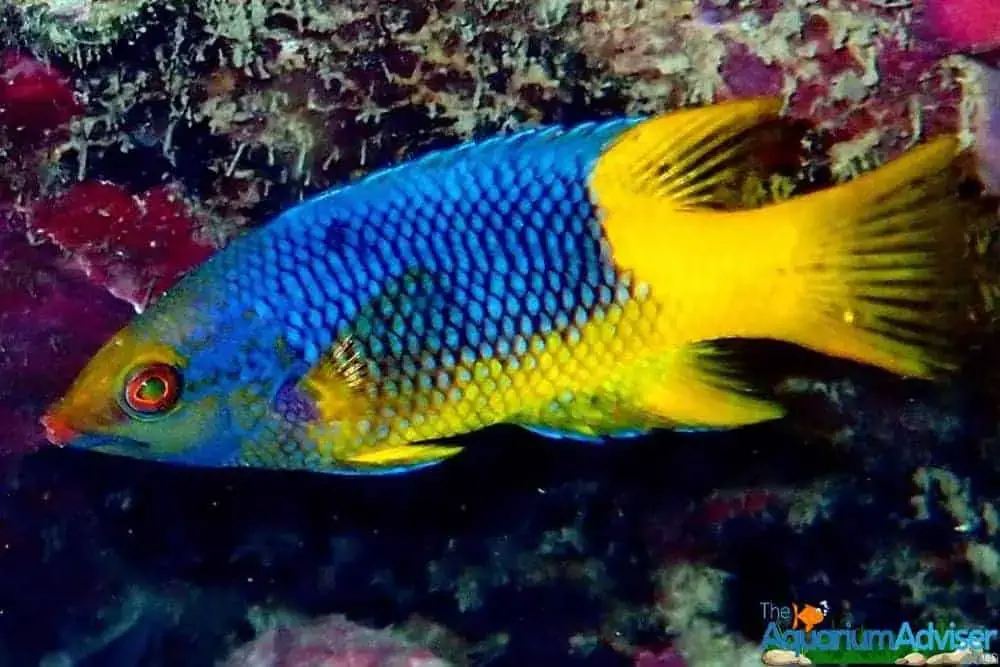 The Spanish hogfish is part of the wrasse family. Depending on where they come from, their coloration may vary. But as they become older, red tends to become the predominant color. The problem with wrasses is that they can grow quite large. Not only will they dominate a tank, but they will become more aggressive as they grow. The larger they grow, the more likely that they will make a meal out of their smaller tankmates. Many experienced aquarists remove them when they become too large. Sometimes they establish a separate, second tank devoted only to a particular type of fish, such as the Spanish hogfish. A close cousin to the Spanish hogfish is the Cuban hogfish (Bodianus pulchellus).
When young, Spanish hogfish are known as cleaner fish. However, the older they get, the less cleaning is part of their activities. As juveniles, they are quite peaceful and very hardy. As juveniles, they will eat a wide variety of marine foods.
African Clown Wrasse – Coris formosa
Origin: Indo-Pacific, Red Sea
Size: 8 inches
Food: Carnivorous
Tank Level: Lower level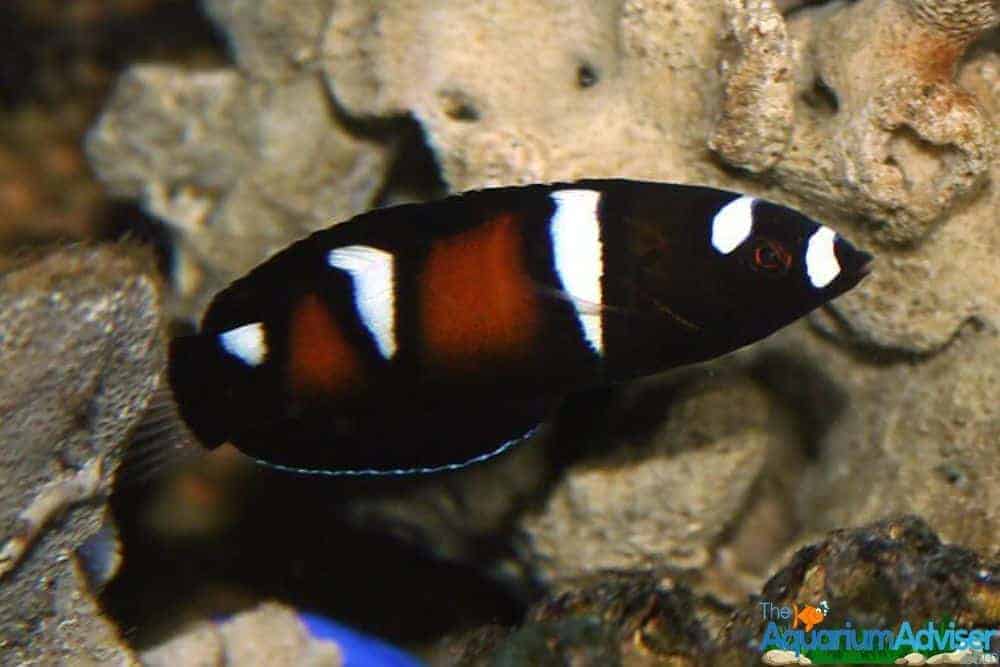 The African clown wrasse changes colors as it gets older. Its white stripes change to a blue-green. It is recommended that you keep just a single African clown wrasse in your aquarium. These fish tend to fight among themselves if there is more than one. The African clown wrasse is usually peaceful with other small fishes as a juvenile. But like some other wrasses, as they mature they become more combative. A close cousin of the African clown wrasse is the clown wrasse (Coris gaimardi).
The African clown wrasse is a bottom-feeder. It prefers live food, especially marine invertebrates like brine shrimp and a variety of other meaty foods.
Cleaner Wrasse – Labroides dimidiatus
Origin: Indo-Pacific
Size: 2 inches
Food: Carnivorous
Tank Level: All levels
This is the hardest-working wrasse in the saltwater community aquarium world. The cleaner wrasse is also one of the most popular marine aquarium fish in the world. This is a must for the novice saltwater aquarist. This fish provides a wonderful service for your aquarium. As you might have guessed from the name, the cleaner wrasse feeds on the parasites of other aquarium cohabitants. It is amazing to watch as it devours these parasites from the body, gills, and mouth of its understanding neighbors. The other nice thing about this fish is that it gets along with its own kind so that you can keep more than one cleaner wrasse at a time!
One of the nice things about the cleaner wrasse is that it is getting some of its nutrition from its job. You should, however, use a variety of other marine foods to complement this fish's normal diet.
Four-Spot Wrasse – Halichoeres trispilus
Origin: Indian Ocean
Size: 4 inches
Food: Carnivorous
Tank Level: All levels
The four-spot wrasse is certainly one of the most beautiful marine fish that you can have in a saltwater community aquarium. This fish is known for its intense yellow body that is highlighted by four black spots that occur along its spine and tail. These are great fish for the beginning saltwater enthusiast. A close cousin to the four-spot is the banana wrasse (Halichoeres chrysus). Both are very peaceful fish. The four-spot wrasse is a carnivore and will readily devour any meaty marine food.
Yellow Sweetlips – Plectorhynchus albovittatus
Origin: Indo-Pacific, Red Sea
Size: 4 inches
Food: Carnivorous
Tank Level: Middle and Lower Levels
The yellow sweetlips is ideal for a peaceful community marine tank. It should not be kept with lots of active or hyperactive fish, as it might tend to become much shyer. They are hardy fish. Yellow sweetlips are known for their vibrant yellow stripes. Like some other fish, these intense colors will fade with maturity. The colors change with age, and they become more drab with size. The beautiful yellow stripes muddy, and the fish becomes more brownish. Sweetlips mostly eat meaty marine foods.
Dwarf Angelfish – Centropyge species
Origin: Atlantic, Pacific, Indian Oceans
Size: 3 inches
Food: Omnivorous
Tank Level: All Levels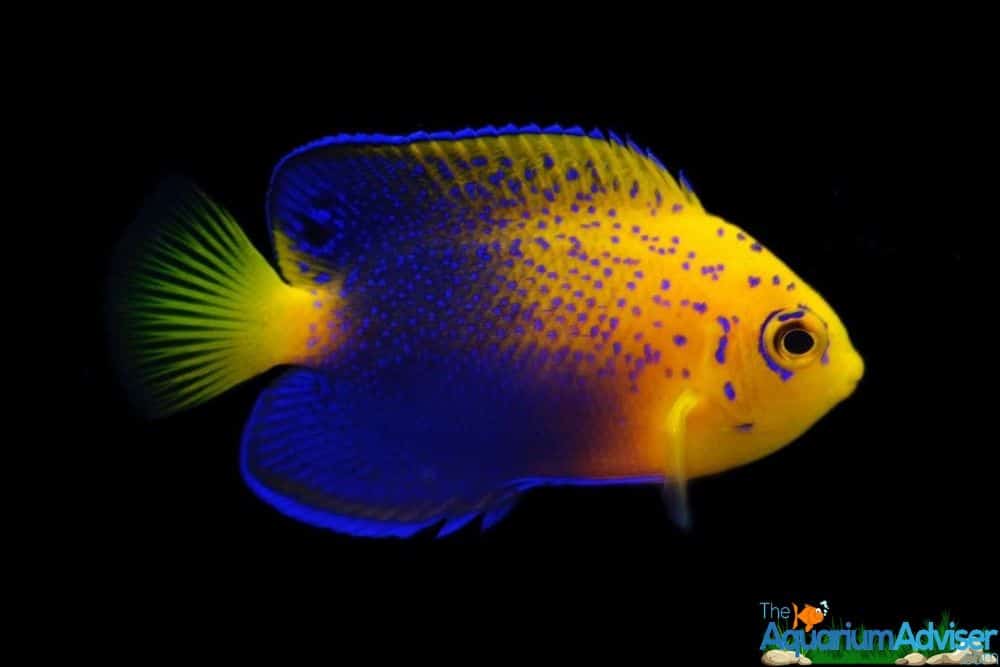 As we discussed earlier, the angelfish are some of the more beautiful fish of the marine aquarium world. However, as they mature and grow they become a meaner species. They can become very aggressive and extremely territorial. And, of course, you need to have a large aquarium if you're going to keep them; otherwise, they'll probably get way too big for your tank and other fish. However, dwarf angelfishes fulfill the desire for angelfishes without all those problems.
Dwarf angelfishes don't have aggressive attitudes and are quite peaceful. They don't fight among themselves, which is extremely important. That means you can keep them in pairs with other dwarf angelfish. Another good thing about dwarf angelfish is that they can cohabitate with many marine invertebrates. Therefore, if you want to expand the scope of your tank later, you can. One thing you need to do for dwarf angelfish is to supply as many aquarium decorations as possible without crowding the tank. You need to leave swimming space, which is always important, but dwarf angelfish like to seek refuge from time to time.
In Summary
Some fish are all difficult to keep, and they are the fish you will most readily see available in pet stores. To keep these fish you need to have more solid information per species than there is room for in this article. However, we have identified them and have identified some of their difficulties. We cannot stress enough how much more you should investigate these species before keeping them. In fact, if you are already an experienced saltwater aquarist, you probably have established relationships with a few shopkeepers and pet store professionals you trust.
Some of the species listed here are usually available only through mail order or direct sales situations. Some of these incompatible fish can live with each other, just as some incompatible freshwater fish can. And, just like in the freshwater world, some can only live alone or with those of their own kind. Find out as much as you can about these fish. Talk to everyone you can before you spend countless hours and money. Then have fun. Yes, fun. Setting up a species saltwater tank is very involved. Many who spend time setting up species for 55 gallon tanks try to recreate the many areas these fish come from, down to minute details. The more you try to emulate their wild environs, the more chance you have of creating a unique and exciting habitat for your fish and for yourself.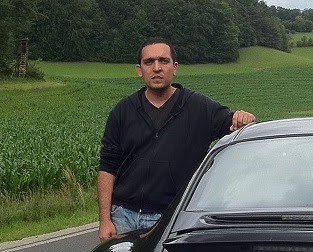 Hi, my name is Sean, and I'm the primary writer on the site. I'm blogging mostly about freshwater and saltwater aquariums, fish, invertebrates, and plants. I'm experienced in the fishkeeping hobby for many years. Over the years I have kept many tanks, and have recently begun getting more serious in wanting to become a professional aquarist. All my knowledge comes from experience and reading forums and a lot of informative sites. In pursuit of becoming a professional, I also want to inspire as many people as I can to pick up this hobby and keep the public interest growing.
Read more about Sean.
Please join also my Facebook group.